Buying  
Admiral Estates understand the need for transparency and fairness, together with the need for accurate and quick communication with all parties in the sales process. We guarantee to ensure that this takes place with each and every client.
'LIVE BID SCREEN' - See screenshot taken 3 mins after Auction close: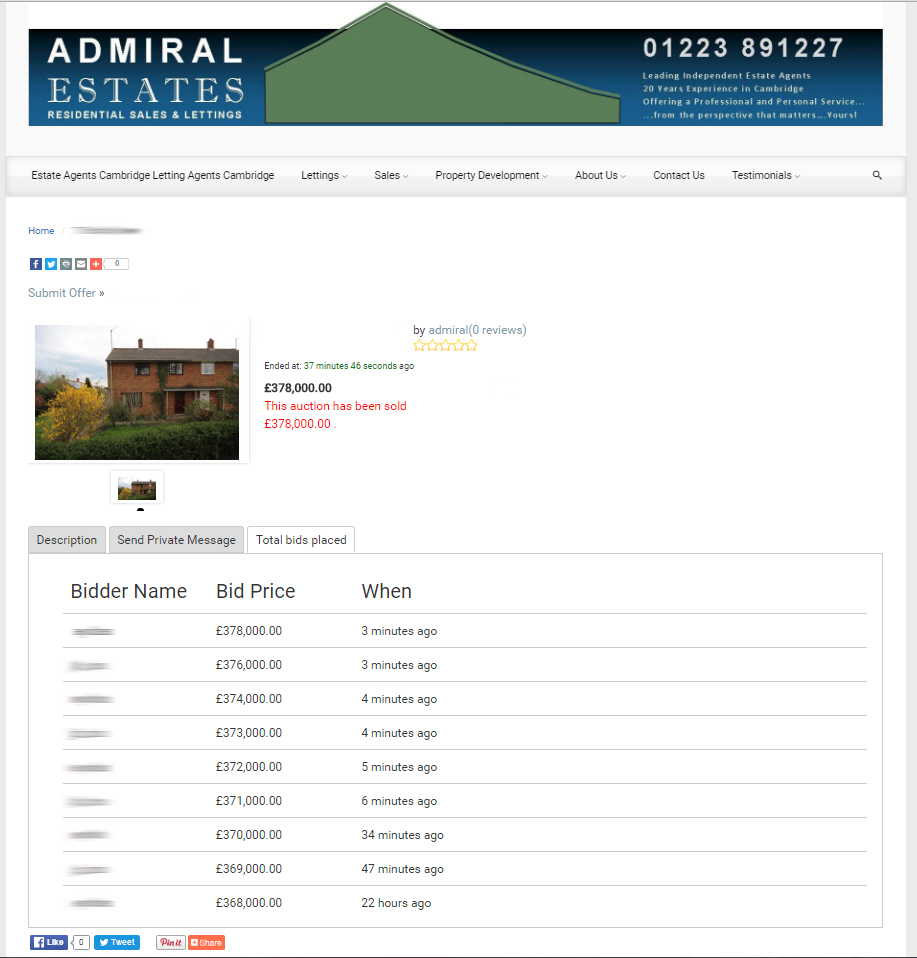 How to Make an Offer and Track your Offer Online
You need to view the property first in the normal way and once you have done this, you can make an offer in the conventional way, by email or phone, OR you can also enter and instantly track your offer online!  Our online auction feed is specially designed to keep you up to date if you have viewed the property and wish to make an offer. You can still negotiate directly with us but all bids are visible and trackable.
This allows us to provide the fairest and most transparent way for you to make and track the progress of your offer especially where there is very high interest in a particular property. You can also adjust your offer and make further bids right up to the closing date of the sale.
We understand that the buying process can be both frustrating and stressful. However, whilst we cannot guarantee the result you may want, we can guarantee to provide the information you need to track your offer and to help you decide on your best course of action.
Note: The online process is indicative only. No Money  transfer is  expected or will be taken online.  Bidders will be approached directly at the end of the sale process and the final bids will expected on the last day.
To offer and track bids online, please follow the procedure outlined below (you may wish to print this):
TO REGISTER:
Click on "Auction Feed tab" top navigation bar (Sales/Buy/ Auction Feed).

If prompted, enter the individual property code provided by your agent  to enter the auction.

Click the

"Bid Now"

Grey Button.
Click the

"Place Bid"

Green Button (Do not bid at this stage if you are not yet  registered).

A LOG IN (Blue)

and a

REGISTER NOW (Red) 

Buttons will appear.
Click on the (

Red) REGISTER NOW

 Button.
Enter your surname  and email address when prompted.
Click Register.
Your

user name, password and link to your own live bid site will be emailed to you. 
TO LOG IN:
 Go direct to the Auction Feed page and  

LOG IN

  with your user name and password. (You can also Click the link in your email to be redirected to your personal WordPress contact log page where you can click the admiralresidential.co.uk link (top left corner) to Log back in to site and Navigate back to the "Auction Feed" page).

If prompted, enter the individual property code provided by your agent  to enter the auction.

LOG IN with the USER NAME and Password
Enter your offer (You can also make offer to us directly by email or phone - these may not show online until we manually update the site.)
The page will show the current highest online bid in real time.
Click on the "# Bids" (Blue Wording) to see complete bid history
On the closing day of the sales, we shall re-approach highest group of bidders to establish the best and final bid.
The highest offer will be given first option to purchase.
Should the highest bidder not be in a position to proceed, other offers will be considered in strict order of merit until the best and final bid is established.
We ask all parties to understand the auction feed is a tool to provide fairness, transparency and feedback to all parties.
Problem Solving
Admiral Estates aim to sort out problems and provide answers to all parties in the selling process as quickly as possible.
Prompt communication, keeping you up to date, progress chasing and doing our best to resolve any issues promptly. This is a key part of our service to our valued clients.